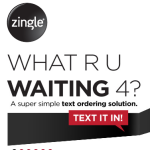 Do you wish you could place an order at your local restaurant or deli with a simple text message? Well now you can!
The Zingle text service allows restaurants and other small business to offer text ordering to their customers. Rather than calling in orders, customers are able to text in their orders and have the order prepared and ready for pick-up. I'm sure you have customers that would rather not have to wait in line to place an order but would prefer to order from home, the office, or while shopping in the mall. Fullest Extent Media has partnered with Zingle to offer Text Message Ordering. Your customers will text in their order, get a confirmation text sent to their phone, and come in to the store for pick up. Many Zingle customers also create an express text pick up line so that those that text in their orders can have speedy checkout. Recently Zingle has added the option to set up a list of favorites to make the ordering process even faster for your repeat customers.
5 reasons to Add Text Message Ordering to your Business
1. Text ordering cut down customer wait times during the busy lunch time rush and allows your customers to enjoy their purchase.
2. Text ordering reduces the amount of lost sales due to walk away traffic from waiting in long lines.
3. Text ordering creates a competitive advantage for your business.
4. Text ordering reduces the amount of time staff uses answering calls and taking orders.
5. Text ordering makes ordering easy for your customers.
When you order today you will receive a wireless Zingle unit to accept and print text messages, a unique phone number to receive text orders, a user guide to assist in quick set-up, and marketing materials to announce your text messaging campaign. Begin your text messaging Today Sign up now at www.zinglenow.com/signup. During checkout enter 102 as the Sales Agent ID number and once the order is confirmed email us at Fullest Extent Media and we will contact you to help you create the branded message and a successful texting campaign for your business. If you have any questions about Zingle test message marketing you can contact us at Marketing@FullestExtentMedia.com or check out the the Zingle website itself. If you decide to order please enter 102 in the sales agent ID so that they will know where the referral came from thanks.
Zingle is an excellent service and I would not recommend it if I didn't fully endorse there services.