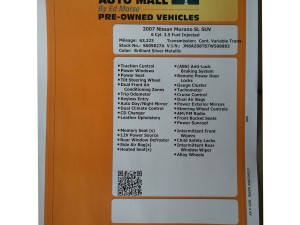 QR Codes or Quick Response codes are quickly becoming a great asset to local car dealers that have begun using mobile marketing. A QR code is a little square 2D Barcode that can be scanned on your mobile device that can take you to almost any online destination.  In this post I will give you a quick example of how these QR codes are being used by car dealers. Some auto dealers here in Tampa are using QR codes to provide more information to customers about the cars without having to speak to a salesman. This approach works well for the business because it offers car shoppers the opportunity to learn about the car even before a salesman approaches, in some cases it can actually pre-sell the car to the customer and make the salesman's interaction just a formality.
For car shoppers – Have you ever been at a car lot and wanted to get more information about a car, but did not want to call the car salesman over just yet?
It would be nice if there were a way to see more pics, and pricing information about the car immediately. Well, using a QR code can do just that. By scanning the QR code into a free mobile application that reads the scanner, it can direct you to a website. I have seen car dealers send shoppers to the company website to see the specs that are put up on  the dealers website. Scan the QR code on your phone to see an example (Hurry before the car is sold!)
This is a very helpful option, but a company can go even further…
Wouldn't it be cool if the scanned code takes you to a CarFax report about the vehicle, or online owner reviews of the vehicle. You could even be directed to a website to see the Kelly Bluebook value of the price, or an online video about the features of the car. With QR codes the destination of the code is only limited to the companies imagination and what makes sense for the dealer (of course).  What will you do with your custom QR code to provide value to your customers? If you would like to add QR codes to your mobile marketing mix give us a call at 813-658-8234 or visit our contact page. Can you think of any other ways to use QR codes for car dealerships? Leave a comment below.