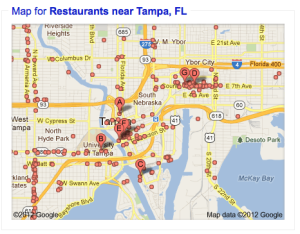 Google Places
Here are two important facts that every small business owners should know and knowing these facts will effect the way you market your small business.
Over 80% of your customers came from within a five mile radius of your business location

.Therefore it is very important that your marketing is accessed by those in your local area. This fact is definitely understood by marketing professional, which leads to the creation of community newspapers and local business directories that are printed and circulated within communities. However more people are using the internet now then these printed newspapers to discover what businesses are nearby.

Thousands of searches are done to find local businesses and 65% of local searchers visit or make a purchase

. That means if your business shows up as a result of a local online search you will receive more exposure, more store visits, more phone calls and more customers.
Now after hearing that your customers are nearby and they are looking for your products or services How are you going to take advantage of this information. May I suggest creating a Google places page.
They are an excellent way to attract people to your business. Although they can easily be claimed for free by going here http://www.google.com/places/ . Your Places listing is most effective if they are properly created to maximized the service Google is offering. If you want to show up high on Google rankings consistently, Call us 888-674-9407
We at Fullest Extent Media know how to use Google Places to get more people to see your business online and come in for a visit.
Call 888-674-9407 for a free consultation and a ranking report.